Regarding Amazon, the product return rate is one of the most important metrics that sellers should pay attention to. A high number of product returns can negatively impact your seller performance and even lead to account suspension. This post will give you a few tips on reducing your Amazon product return rate.
What Is A Product Return Rate?
The product return rate is a metric that Amazon sellers should be aware of. If your product return rate is high, you may want to consider revising the product description. You can also hire a reputable Amazon Marketing Services Expert provider to help you.
If you're not familiar with this metric, here's what you need to know:
Product return rate = (Returns / Orders) x 100
The higher the return rate, the more likely customers will be dissatisfied with their purchase. A low product return rate indicates that customers are satisfied with their purchases and would recommend them to others. Generally, a product return rate under 3% is considered good, while anything over 10% is considered very bad.
Ways To Reduce Your Product Return Rate on Amazon
There are several things sellers can do to reduce your product return rate, including:
Understand The Reason For Returns
Before you try to reduce your Amazon product return rate, you should understand why customers are returning items in the first place so that you can address those issues directly. This will help you develop strategies for reducing returns in the long term and prevent them from happening again in the future.
There could be many reasons why people might want to return a product after buying it from your store. These reasons include the following:
The customer didn't like it and wanted a refund/replacement for another item.
The customer found a better price elsewhere or decided he/she didn't need it anymore.
The customer didn't realize there are size restrictions when ordering online (for example, if they ordered a shirt but were too small for it).
Make Your Product As High Quality As Possible
The best way to reduce your Amazon product return rate is to ensure that your product is as high quality as possible. This can be done by using only the best materials and manufacturing processes, paying attention to detail, and testing several iterations of your product before finalizing it. All these things will help customers get what they expect when they buy from you.
Improve Your Product Photos
Another important thing you can do is improve the quality of your product photos. While it may seem like a small detail, it can make the difference between someone buying or returning an item. To increase sales, ensure your images are high-resolution, clear, and well-lit. You should also include multiple images so shoppers can see each product's appearance from different angles and in various settings. If you're selling clothing items, show them being worn by models similar in size and body type to your target customer demographic.
Write Detailed Product Descriptions
One of the most common reasons products get returned is because they don't meet the customer's expectations. This can be due to poor images, unclear descriptions or a lack of information about the product. Take time to write clear and detailed product descriptions for each one of your products so that customers know exactly what they're buying before they pur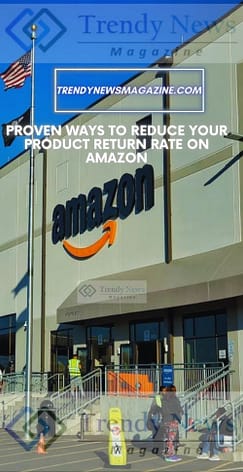 chase it.
Your customers need to know exactly what they are buying, so make sure your product descriptions include all the necessary details about size, color and fit. Also, be sure that the description includes any product features that might be important or useful to the customer.
Ask Customers To Not Return Items Rather Than Send a Replacement
If you can ask customers not to return items but rather send them back for credit or exchange, then it's highly recommended that you use this option. This will help you save both time and money in terms of shipping costs and reduce your return rate on Amazon. In addition, asking customers to do so will show them more respect and appreciation for their purchase.
A seller can also add a note on your product page that says, "if you receive any damaged or defective items, please contact the seller directly for a replacement rather than returning it for a refund" or "if there are any problems with the order, please contact the seller directly so we can work something out instead.
Offer an Extended Warranty
If a customer buys products from your store, they can request a refund within thirty days of purchase if it doesn't work as expected. If they do that and then decide to keep it, Amazon will ask for the item back after 30 days so it can be sold again at full price. But suppose you offer an extended warranty on those items, making them ineligible for refunds within that timeframe. In that case, the customer is stuck with what they've got, which means they won't be able to get their money back if there's something wrong with their purchase in just a few weeks.
Communicate with Customers
When you communicate with your customers, you can resolve any issues before they turn into returns. If a customer has questions about an item or any problem with their order, try reaching out to them before they leave negative feedback or open an A-to-Z claim against your seller account. If a customer leaves negative feedback because of something that was out of your control (i.e., shipping delays), try reaching out to them so that they can update their review accordingly.
Optimize Your Packing for Returns
If your product is being returned because of poor packaging, it's time to rethink how you package it. There are many ways to optimize your packing for returns and ensure that your customer receives their product in good condition. One way is by using a bubble wrap-around insert inside the box. The bubble wrap will cushion any items inside the box and prevent them from getting damaged during transit.
Maximize Customer Satisfaction with Efficient Shipping & Returns
Another important aspect of effectively managing returns is ensuring that your customers are satisfied with their shopping experience. This means providing quick shipping, easy-to-use return policies and excellent customer service.
Sellers can also use Amazon's Fulfillment by Amazon (FBA) program to reduce the product return rate.
What is the Fulfillment by Amazon (FBA) program?
Fulfillment by Amazon (FBA) is a service that lets you store your products in Amazon's store or fulfillment centers, and they will pick, pack and ship orders on your behalf. With FBA, you don't have to handle customer service. You can opt for FBA when selling large quantities of products on Amazon. Amazon fulfillment centers are present in almost every state and several countries worldwide. When you use FBA, customers are more likely to receive their orders quickly, making them more likely to buy from you again.
How it works
With FBA, any customer who wants to return an item can do so easily without contacting you first. The customer will simply go through their normal returns procedure and then ship it back to Amazon at no cost or hassle.
When an item is returned, it goes through an automated process at Amazon that checks if there were any defects in the product when it was purchased or if the item was damaged during shipping. If there are no defects, they will refund your money based on the original purchase price and shipping costs.
Conclusion
Product returns happen in eCommerce. The goal is to decrease the return rates by implementing best practices that are actionable and not necessarily costly to implement. Managing your product returns rate requires greater than just a "one size fits all" approach. You must evaluate your product and situation for the actions that will help you achieve a positive outcome. Finally, having the right tools to help you mitigate failure can help you succeed at growing your business and reducing failures that occur during this process.
For More Amazing Updates, Keep Visiting Trendy News magazine.