Bathrooms are always a good way to start a home makeover. This is especially true if you are trying to change the style of your home. So why not consider updating your bathroom first? If you think it will need a lot of money, think again, as bathroom accessories offer a stylish, practical, and affordable way to update the bathroom looks. However, it is important to ensure that the bathroom accessories you choose look good when put together. That means these should match your bathroom suite. 
In this post, I will be sharing with you some of my favourite accessories that you can use to bring a new look to your bathroom.
How Bathroom Accessories Can Help?
There are many ways that bathroom accessories can help complete the bathroom look. In addition, these can make your space appear more luxurious. To make a perfect style, you will need to make that you follow the overall theme of the bathroom suite. For example, you must look for modern designs to complement the contemporary bathroom. 
Before you decide about the type of accessories you need, it is important to know your objectives and whether you want them to be cozy or similar to a spa. What colour scheme you are following. You will have to think about all these things before choosing any such item. 
Bathroom Lighting.
One of the most affordable and stylish ways to add a new look to the bathroom is by adding new lights. There are plenty of options to choose from. These include wall lights that fit on the wall, ceiling light for creating overhead lighting, over the bathroom furniture or bathroom suite and shower lights that can take your shower experience to a lot of new levels. In addition to that, you can also opt for mirror lights that will décor your mirror differently. 
Toilet Paper Holder
A toilet paper may not be top of the list of your bathroom essentials. But when it comes to functionality, these are a must-have item. These are usually taken as a standard spindle holder to put the toilet papers on. But you can achieve a lot more than that. If you do a bit of research, you will find many stylish options to create the desired look. Whether You want timeless or contemporary looks in the bathroom, these are perfect tiny pieces to complement your bathroom suite.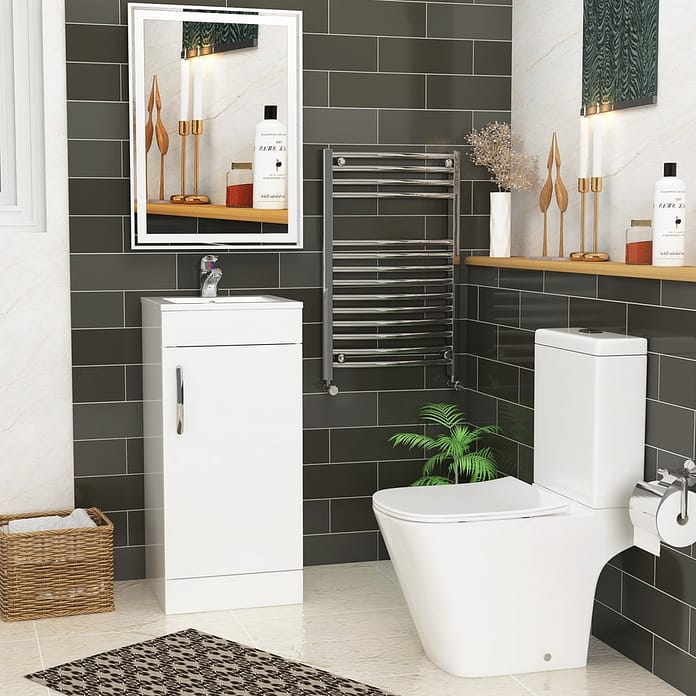 Tooth Brush Holder
Another essential bathroom accessory is a toothbrush holder. You need it because the bathroom is one such place where bacteria grow, and a holder can keep it safe. However, you can use these holders to create a bit of style. For this purpose, you can choose the one that offers multiple storages. 
Soap Dish
Storing a soap bar is problematic. A soap dish is an accessory most often used for this purpose. However, most of these can not keep soap dry and make it soak in its own water. That, after some time, turns a soap damp and unusable. However, there are dishes available that can prevent soap from being moist all the time, even when placed near a sink or shower. You should try to find a soap dish that does the job and looks stylish. 
Towel Rack and Towel Ring
While everyone needs a towel for a shower or bath, there should be a suitable space to hang them. A towel rail or towel ring can be a highly functional accessory that can enhance the overall looks of the bathroom too. Both these fixtures are available in a variety of style options. You can turn them into an aesthetic element by fitting them into the right spot near bathroom suite. However, you will need to make sure that this position is easily accessible from the bath or shower.  
Grabbing Rails 
If you have elderly or any one with limited mobility at home, then a grab rail is an essential need for your bathroom. These will enhance the overall safety of anyone having a bath or shower. Although the common trend is to install a steel bar with chrome finish, you can also find them in plastic material. If you don't have a problem with a budget, then chrome steel grab bar is the right option for you. Not its durable but also looks great. 
Bath Towels
Bath towels are a need for every bathroom. However, these are a bit expensive but can add a lot of functionality and style to your space. You can choose a towel that is perfect for you and your lifestyle. If you want to add a little luxury to your bathroom, then you can go with a towel that has a soft and silky texture. If you want to add a little texture to your bathroom, then you can go with a towel that has a textured surface. 
Storage Baskets.
A storage basket is a great addition to any bathroom. A basket can help keep everything in its place and give you a space to store items like bathroom furniture. In addition to that, you can use baskets as a decorative accessory, or you can use them to store your towels. These offer a great way to get a new look for your bathroom. They can help to add color and texture to the room. You should be able to find a basket that goes with the rest of your bathroom decor. 
Shower Curtains
Although more people prefer shower panels with a bath instead of a shower curtain, these are still a great way to create a new bathroom look. These are available in various designs. You will need to be careful while choosing one that matches your bathroom theme. In addition, the choice of material is an important matter. It is important to get the type that is washable as these get dirty pretty quickly.  
Soap Dispensers
Your modern bathroom is incomplete without a soap dispenser. It will help you get rid of soap bars that are often problematic, taking a long time to dry offer. These are available in various styles that you can use along with the bathroom sink, bath, or shower. The type of style you choose will have a significant visual impact on the bathroom. 
Final Thoughts 
Bathroom accessories can play a vital role in making your bathroom a highly functional and stylish place. However, you will need to keep in mind that it should match with overall theme of bathroom suite. We have discussed a few of the most important bathroom accessories that you can choose. However, we don't include all. There are many other types of accessories available that can be a great addition to your space.